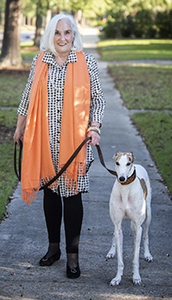 The moment I woke from surgery I felt immediate relief. Five months ago, Dr. Patterson fused three vertebras in my neck and marked improvement is noticeable every week since surgery.
Dr. Patterson's thoroughness, compassion and precision are reflected in his successful skills as a surgeon and in the attentiveness of his staff - especially Margaret, his nurse.
Upon being released from the hospital the prescription given was drink water and walk. I did, I do, and it works! Plus, it helps to have great support like my greyhound, exceptional neighbors and the outstanding Southern Bone and Joint physical therapy team.
I am moving with greater ease and with much less pain since Dr. Patterson and I decided to do this neck surgery and I am very grateful.